The Museum of Naval History
Location: Port Burwell, Ontario, Canada
The Museum of Naval History is located in Port Burwell, Ontario (on Lake Erie) and is operated by the Elgin Military Museum (located in nearby St. Thomas, Ontario).
The first and largest artifact of the Museum of Naval History is the HMCS Ojibwa submarine. While the museum site and building are currently in the development stage (as of 2015), the decommissioned submarine itself is open for guided tours, outside and inside the submarine.
The HMCS Ojibwa is the only submarine in Ontario that is open to public tours. HMCS Ojibwa is a Cold War era Oberon-class submarine that served in the Royal Canadian Navy and later the Canadian Forces Maritime Command.
Photos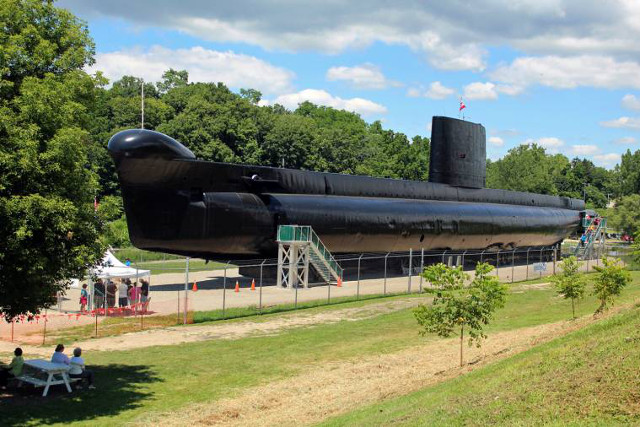 Activities
Guided tour outside: "The Fish Eye View" (45 minutes)
Guided tour inside: "The Submariner's Tour" (1 hour)
Intensive guided tour inside: "The Greater Depths Tour" (3 hours; by appointment only)
Map & Directions
Contact & Address
3 Pitt St., Box 250
Port Burwell, ON, N0J 1T0
Canada

Telephone: 1-519-633-7641

GPS address:
"3 Pitt St., Port Burwell, ON"

Latitude: 42.645767
Longitude: -80.8070058



Ontario Attractions | Ontario Travel Guides | About | FAQ | Photos | Copyright | Contact