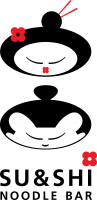 Awarded "Toronto's Most Popular Restaurant" by Zagat, Spring Rolls launches a new and exciting culinary concept – Su&Shi Noodle Bar. Modelled after the popular ramen bars of Japan, Su&Shi Noodle Bar brings this modern Japanese experience to Toronto.
Su&Shi Noodle Bar offers a casual dining experience in the Yorkdale Mall with food court competitive prices and a refined, elegant environment. Offering freshly cooked entrees, delicious sides, alcoholic beverages, and mouth-watering desserts, Su&Shi Noodle Bar is a great place to gather with friends and family alike – whether you're looking for a quick bite to eat or an extended night of drinks and laughter, we've got you covered.
Beyond a yummy selection of sushi, sashimi, and ramen noodle soups, we also offer Stir Fried Noogle dishes and Teppan dishes such as Yasai Katsu Curry. Check out our menu for more details, and please contact us if you have any questions. We hope to see you soon!